Case Study
Algiers, America | Hulu/Andscape
Through MXW'S long-standing relationship with Disney & ESPN, Trailer Park Group worked with Hulu/Andscape on Algiers, America on everything from strategy to trailer and key art. In collaborating with Andscape on designing brand-driven marketing materials, our continued partnership led to our first 360 campaign together, a five-part limited-series documentary telling the story of Coach Brice Brown, the Edna Karr Cougars and their quest for a fifth state championship.
Brand Strategy
In 2021, we joined forces with Andscape, a black-led media platform, dedicated to highlight and uplift the diverse stories of black identities. We worked across editorial, publishing, film and TV divisions, partnering to design brand sizzles, visual identities, sell-in pitches, treatment decks and wider marketing collateral.
An example of our collaboration was the development and design of the Andscape studio identity in motion. Our approach was to highlight bright colors and merge them together, landing on the logo itself as the animation comes to an end.

Positioning
For Algiers, America, we knew the series was a rare, captivating, and candid look at life in a community fighting to be defined by their triumphs on the football field and far beyond. Our approach was to authentically convey the series' tone of an inspirational sports drama told through a larger societal lens that encapsulated the scope of this essential true story of Coach Brown and the Edna Karr Cougars. 
By leveraging Andscape's reputation for deep intersectional storytelling, the ultimate goal was to appeal to all documentary fans seeking compelling, thought-provoking unscripted drama, including a broad multicultural Millennial and Gen Z audience looking for meaningful stories as they intersect with race and culture.
AV
In working with Andscape, we knew how important it was to have an inspirational trailer to reflect the motivational true story of Coach Brown and his team. We wanted our creative approach to highlight the perseverance, redemption and triumph that this team faces while dreaming up the idea of becoming the best Football team in America. In this powerful and hopeful story, we also wanted to capture the heartbreaking realities of growing up amongst gun violence in New Orleans and how this community fights to stem the tide.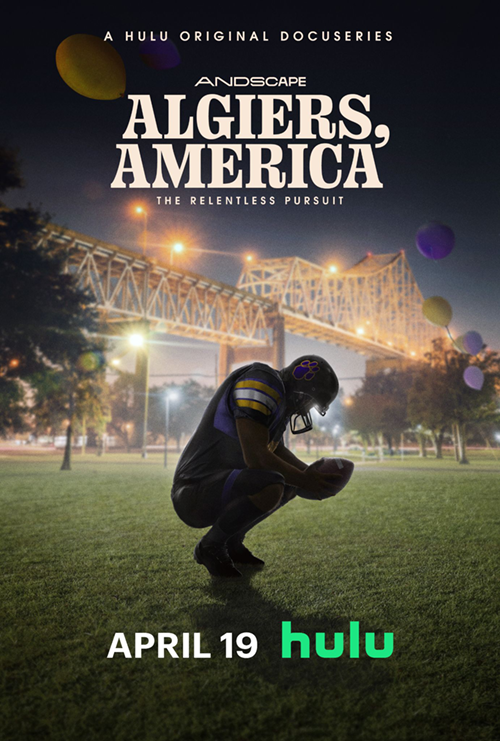 Key Art
Building from stock, screen grabs and limited photography, we developed the key art to depict the powerful story of Coach Brown and the Edna Karr Cougars. In the process of creating the art, we explored balancing the environment while keeping the passion and love for the sport at the forefront.   
A challenge that we faced was avoiding the use of the players faces for NIL (name, image and likeness) reasons. Due to this, we focused on exploring the use of silhouettes to show the athlete, in turn, making the art more heartfelt and sincere.