Case Study
Bupkis | Peacock
Pete Davidson's semi-autobiographical series Bupkis blurs the lines between comedy and drama, combining grounded storytelling with absurd elements from the original worldview which Pete is well known for. Our challenge was to take this series full of bong rips and dick jokes and make it appealing for a broad audience and appropriate for paid media. Our marketing campaign honed in on the ridiculousness of the series while infusing the lovable familial relationships (Pete with co-stars Edie Falco and Joe Pesci) and touting the long list of celebrity guest stars (where contractually possible). The campaign encompassed everything from sketch concepts, trailer, and targeted spots for broadcast and social to OOH and digital adaptive and FYC.
Trailer
Everyone knows Pete's self-deprecating humor, his stoner habits, and and his genuine and down-to-earth persona. But do you know about his "butthole eyes?"
For our trailer, we took "semi-autobiographical" to a new level, pulling a musical track directly from Pete's personal playlist. To market this series to a broad audience, our trailer rode the line of edgy and warm-hearted, funny and poignant. We introduced celebrity co-stars Edie Falco and Joe Pesci as Davidson's endearing and outrageous family along with the litany of celebrity guest stars throughout the series.
To maximize appeal among different audience segments throughout our marketing campaign, we developed several bespoke targeted spots for social and broadcast.
Our "BDE Comedy" spot leans into the edgiest moments of the series (that is, as edgy as we can get for paid media).
For our "Star Power" talent-focused spot, we cut to the song, "Goodies" by Ciara to drive the hilarious tone and attitude of the series.
Lastly, for Mother's Day weekend, we created a "Mother's Day" spot highlighting the tender and funny moments between Edie and Pete.
OOH/DOOH
We developed motion key art for two Key Art finishes.
Drawing inspiration from the now-iconic image of Jack Nicholson smoking while floating in France, our OOH tryptic motion poster embraces the absurd as Pete Davidson floats in the hudson while his ashtray bobs towards him.
In our secondary key art, we zoom out on a family dinner scene with our three key talent.
Each gives prominent real estate to the big names in the series.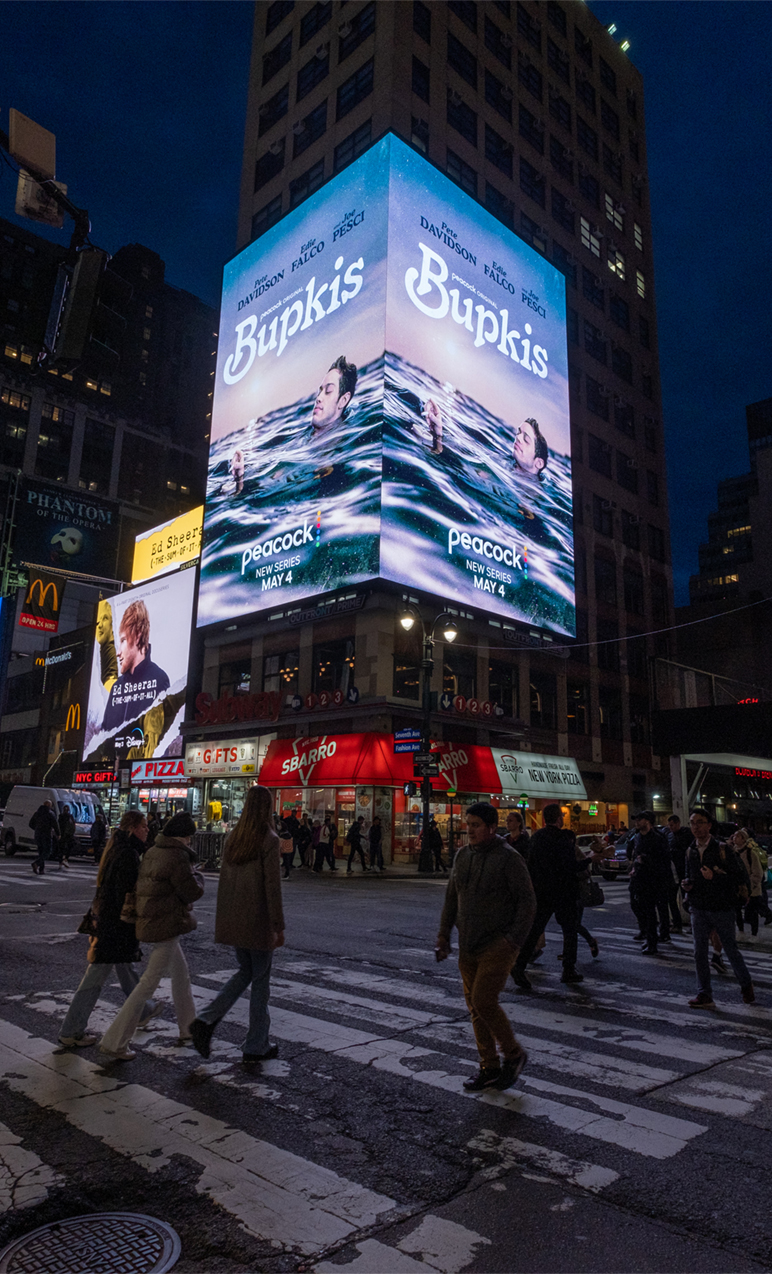 Display & Adaptive
Working from our two custom motion cinemagraphs, we designed a full campaign for digital display.
We also completed all the post finishing, adaptive, and versioning on all AV assets produced for the campaign, across social, broadcast, programmatic, DOOH, and O&O.
Overall we delivered:
500+ AV assets
330+ Display assets
150+ DOOH/OOH assets
25+ FYC assets
FYC
Lastly, we designed and produced an awards campaign for Emmy consideration for Bupkis, inclusive of OOH and adaptive AV deliverables.