Case Study
Hart to Heart S3 | Peacock
After a successful partnership on S1, Peacock re-engaged TPG to elevate the creative for its biggest season yet, starring our favorite A-list celebs. We developed the Key Art and Trailer for S3 of Hart to Heart, Kevin Hart's namesake comedy talk show. The show highlights Hart and his A-list circle of friends as they have unfiltered conversations over a glass of wine. Our challenge for S3 was to keep the established brand look/feel from past seasons, while balancing the excitement and dynamic nature of the newest season - enticing viewers to watch and keep them engaged.
Trailer
This season, we embraced and highlighted Hart's unique ability to bring out never-before-seen or heard, raw and authentic moments with the talent. We featured the unfiltered nature of these interviews, as well as the fun, comedic moments that inevitably come out when celebs let loose with a glass of wine or two. 
With limited visuals and cutaways, we focused on making the editorial style as dynamic and engaging as possible in the movements and transitions. Through this approach, we were able to feature quick punchy bites and moments, teasing the snippets of conversations in between transitions. We kept the music tonally consistent with past seasons to preserve the feel and established tone of the existing brand.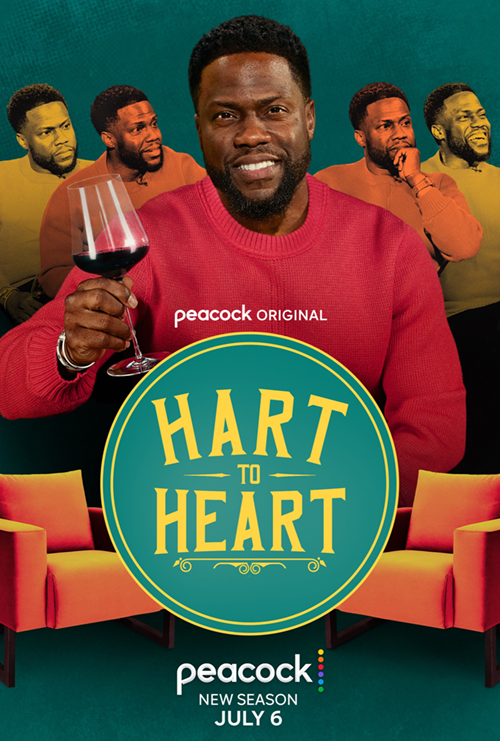 Key Art
For key art, we highlighted a stylized execution of Kevin Hart on his own with a glass of wine while we see the evolution of his different facial expressions in the background, speaking to all of his bold reactions in the series. We also played with the different color elements to bring attention and an energizing effect to this season, while alluding to the playfulness and lightheartedness of the series. In keeping the brand look in mind, we aimed to keep the chairs and wine glasses in the shot to highlight the conversational aspect of the series and tie it back to previous season's artwork.