Case Study
Wednesday | Netflix
Together with our partners at Netflix, we developed an integrated marketing campaign for Wednesday, from initial strategy and marketing shoot, to launch, sustain, and announcement of Season 2. Everyone knows Wednesday Addams, so our challenge was to re-imagine Wednesday with a Tim Burton spin and make the marketing worthy of Netflix's next massive broad-appeal franchise. Our campaign strategy was led by Wednesday's own tone and personality, with our guiding principle: "What would Wednesday do?"
Long Lead Teaser & Teaser
We developed the video assets across the campaign – from teasers to trailers to TV spots and even a S2 Announcement– all driven by Wednesday's morbid wit. The custom shoot long lead teaser introduced Jenna Ortega as the character of Wednesday for the first time. Then, we built our Clio-award-winning teaser around a scene from the pilot that presented Wednesday as the familiar Addams they know, but in a modern setting, cued to Édith Piaf's famous song,"Non, je ne regrette rien."
Social Media
We established a snarky, self-aware, and sardonic tone, channeling Wednesday's attitude and energy into everything we crafted and composed. 
We developed a channel strategy to differentiate our approach on Twitter–as a way to speak through Wednesday as a character–and Instagram–as a way to promote the show. 
Through community management, we engaged with followers, always with a sharp and witty quip up our sleeve.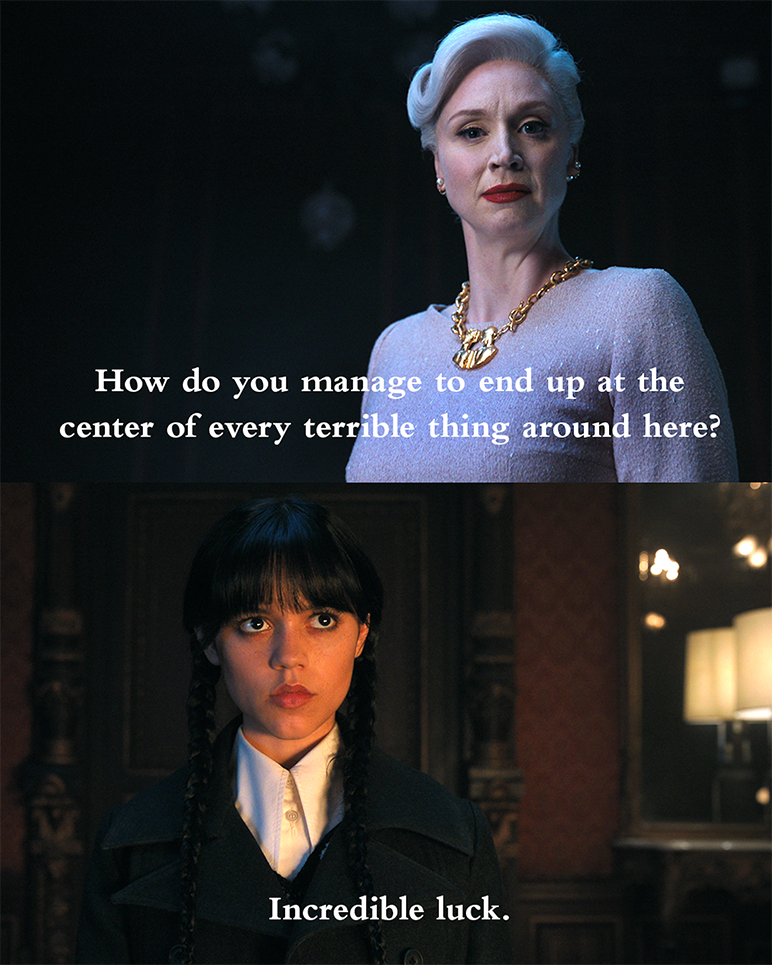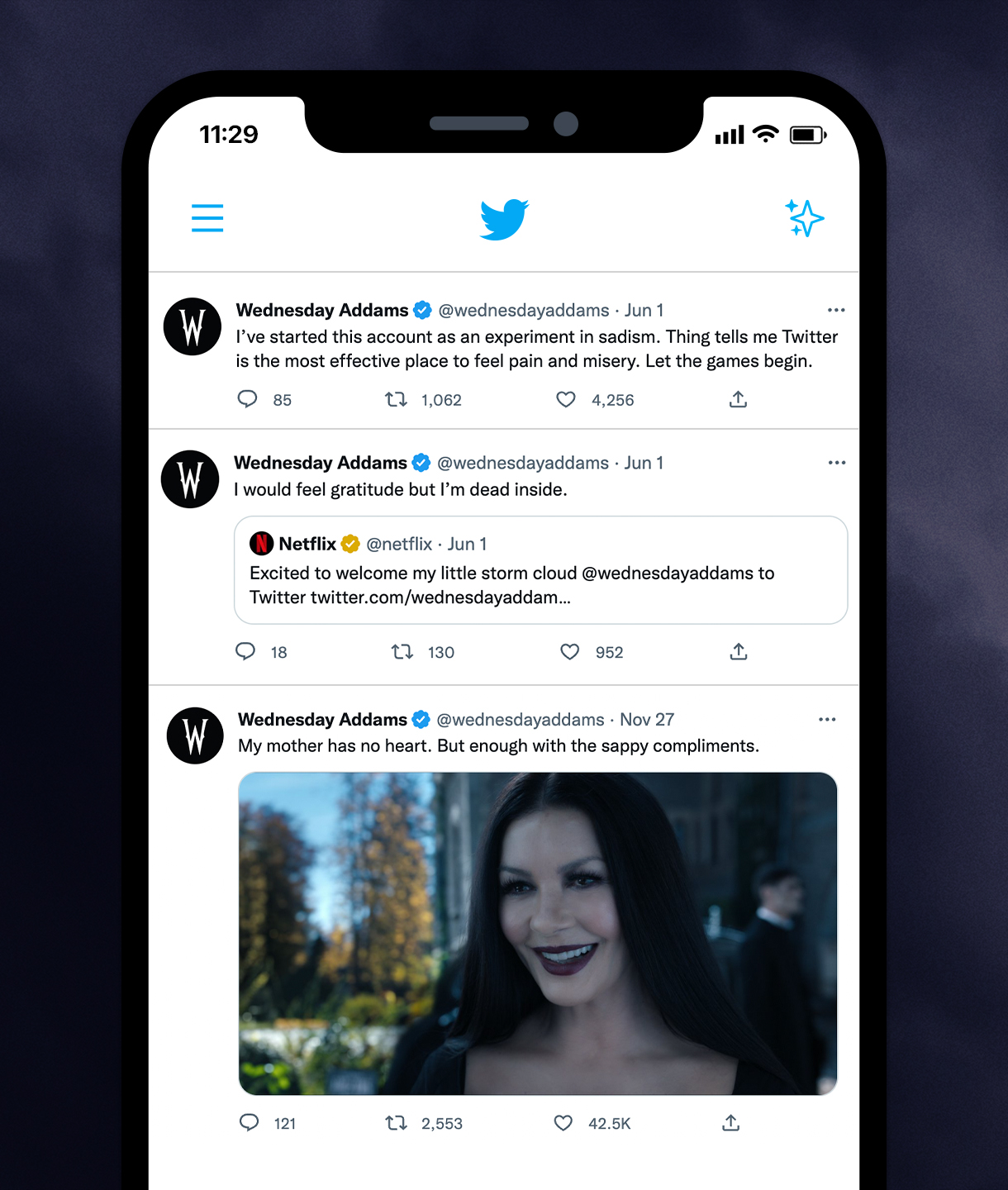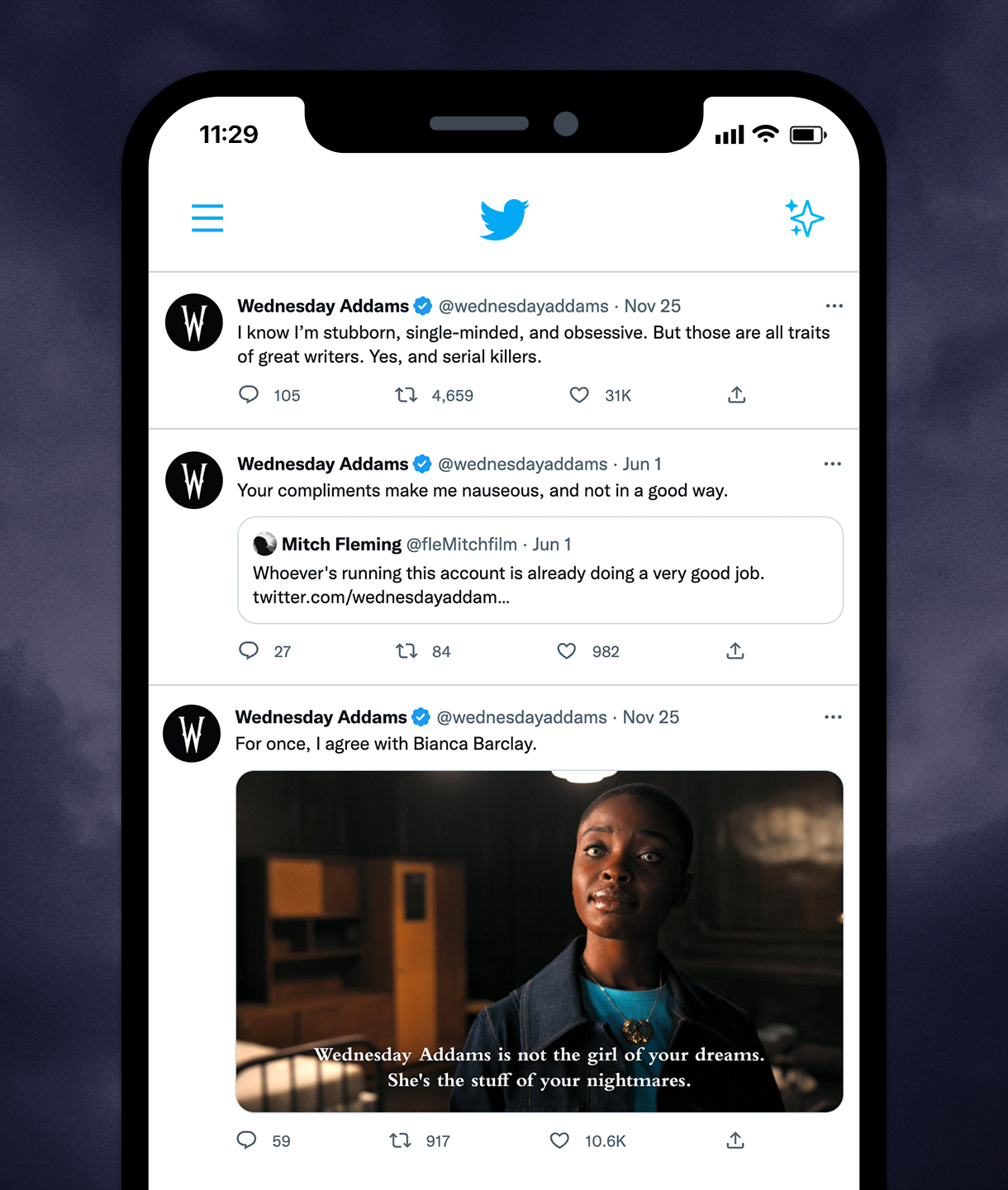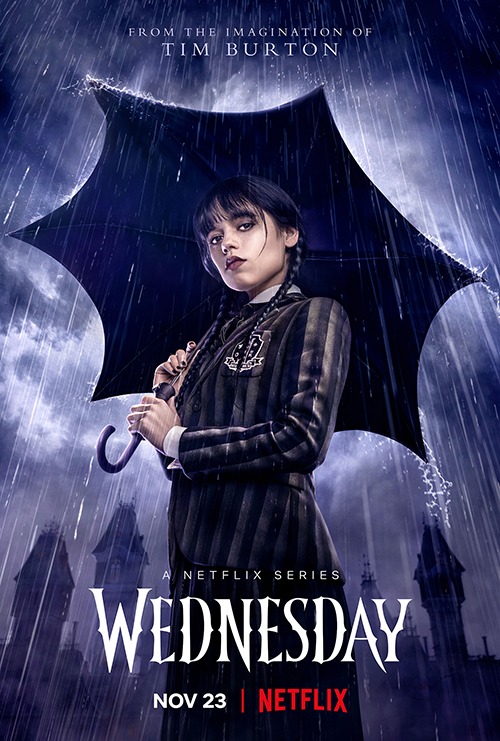 Key Art & OOH
We sketched concepts and directed a photoshoot with Jenna Ortega along with other cast members, but ultimately decided to focus our Key Art on Wednesday as the iconic Addams family member. Our low angle shot makes her look larger than life and her serious demeanor points to her gloomy disposition. The morbid tone comes through with her spiderweb-shaped umbrella, stormy weather, and the gothic architecture of Nevermore Academy in the background.  
Leading up to the premiere, we extended our custom key art to billboards and dozens of other high-impact out-of-home placements. To build anticipation amongst Thanksgiving travelers "departing" home for the holidays, we even extended our art to live on airport trays at LAX with custom copy.
Trailer & TV Spots
Our trailer put Wednesday's character, her attitude, and morbid voice front and center. To set the tone, we developed an orchestral mashup of "The Addams Family Theme" and "Paint It Black" by The Rolling Stones. And subsequent TV spots helped build excitement around Wednesday and the world of Nevermore Academy.
TikTok & Season 2
As the Wednesday dance took TikTok by storm, we capitalized on the hype with strategic reactive content by creating a "Bloody Mary" music video of Wednesday. 
Within 2 weeks of launch, Netflix announced a season 2 for the series and we are so grateful to be along for the ride.